If you've talked to me in the past couple weeks, you know I've been obsessively talking about and playing one of the latest visual novel releases from Studio Élan, Heart of the Woods. So, what's a better way of progressing my obsession than reviewing it on my monthly blog assignment?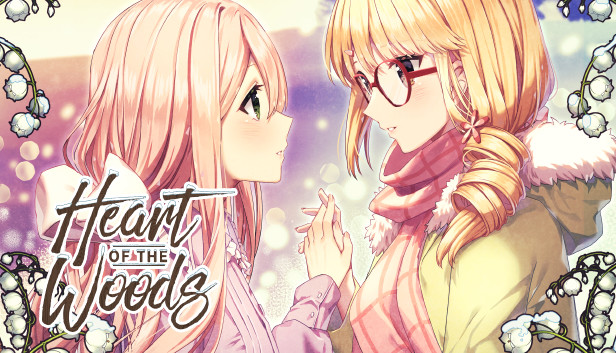 Heart of the Woods is an LGBTQ+ romance visual novel that tells the story of four young girls meeting in unusual circumstances and fighting against an evil force trying to rip them apart. The main protagonist of this story, Maddie Raines, is the manager of a paranormal web-show hosted by her best friend, Tara Bryck. However, Maddie has bigger plans for her future than running a mildly successful web-show for years about something she doesn't even believe in for the sake of her best friend.  So, she announces her departure from the show before her last big episode, and Maddie and Tara enter a largely unspoken grudge on the ride to a whole new country. The two instantly strike the player as opposites, and it makes you wonder how they became such close friends in the first place. Maddie is professional, logical, and cold, while Tara, on the other hand, is brash, positive, and energetic.
The pair arrive in Eysenfeld, a quaint, isolated village in Germany. An eager fan of the show had invited Maddie and Tara out to her small town to investigate paranormal happenings in the woods around Eysenfeld, calling it a "ghost-hunter's paradise." This fan, as we'll soon come to learn, is Morgan Fischer.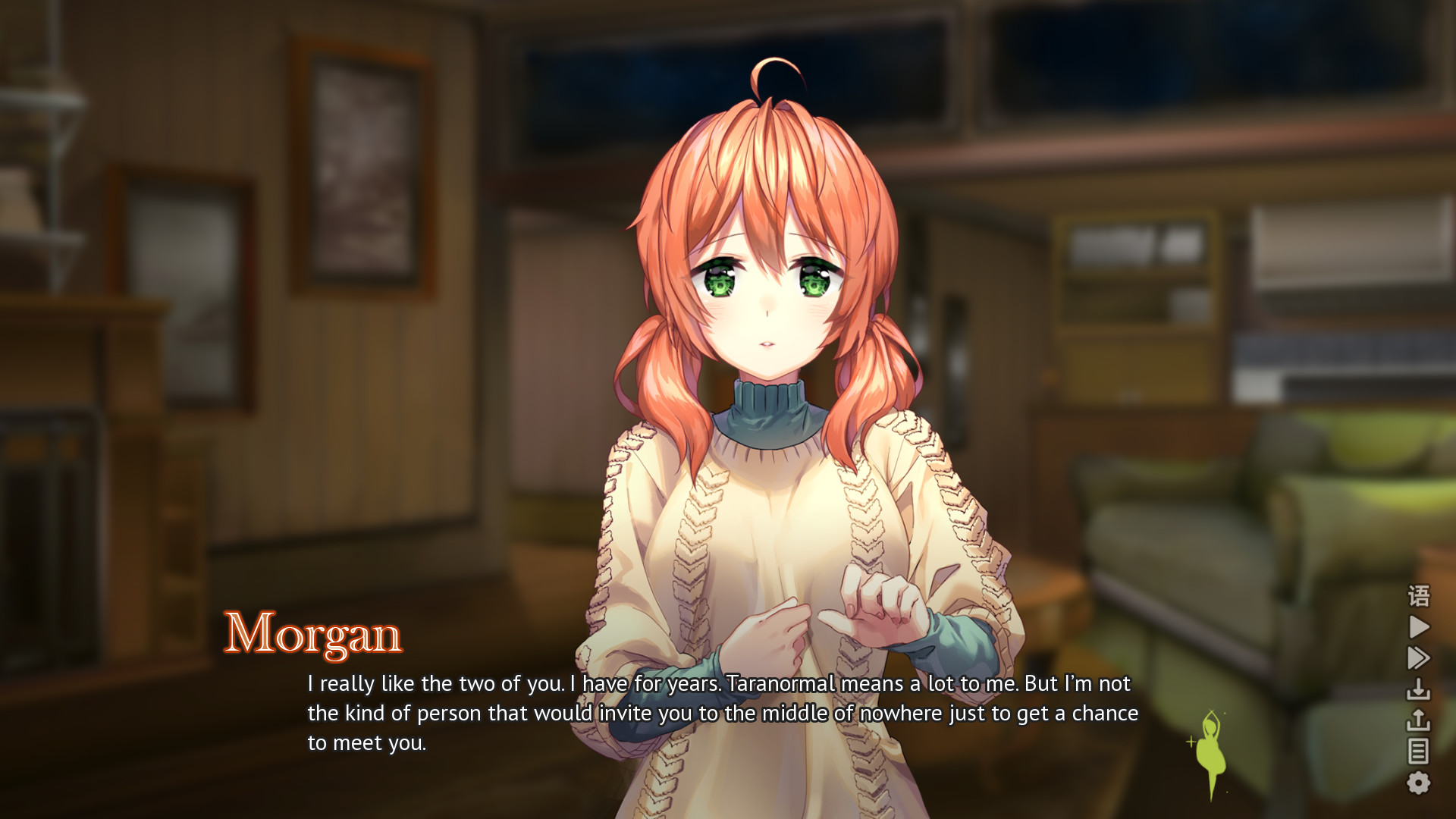 Morgan is, well, different. She's not interested in antiques, yet runs an antique shop (that no one shops at), claims to own a talking cat, seems to show little to no emotion, and the entire town of Esyenfeld treats her coldly and as if she's some sort of stain on the town's reputation. However, she has her quirky charms o her. Tara is quick to dismiss this, but Maddie is wary of her. Maddie instantly regrets coming on the trip. It's unbearably cold, far away from home, and they're even staying with who she believes is a lunatic.
If only there was something, or rather someone, who could convince her to stay a little longer…
Fast forward a bit, and you'll soon meet Abigail, the ghost of a young woman trapped in the heart of the woods, as you may say. Maddie encounters her in the forest of Esyenfeld one day while trying to clear her head, and the pair quickly become close friends. Abigail had not spoken to another person in over one hundred years, so Maddie is wonderful company to her. Even after all that time, she is still mostly herself—meek, kind, and playful. Maddie is unable to hear or touch Abigail, but Abigail can understand her. Maddie finds out her name by bringing a book of baby names and reading them out one by one until the ghost girl confirms: Abigail. Maddie continues to read to her at an abandoned church every day, and the pair grows closer each visit. The two agree to keep Abigail's existence a secret from everyone.
So, now that you know the basics of the game and its characters, let's move on to the review!
Overall, I enjoyed Heart of the Woods a lot! Abigail and Maddie's romance in particular was really intriguing, and not once was I bored with the story or characters. The game description calls it a "take on a fairy tale," which is absolutely well executed. The whole story is magical, and the forest makes you feel as if you're stepping into another world. The descriptive writing is phenomenal, and all the characters are fleshed out and feel like real people. (Except for, in my opinion, the main antagonist, but I'll get to that later.) The music was also EXCEPTIONAL! I listen to the OST all of the time now, and I cried while listening to the ending song by In Love with a Ghost. (A very fitting guest appearance.) It just felt as if the team truly did put their heart and soul into the project, and I would heavily recommend it to everyone. It's safe to say I'm super excited for my Maddie x Abigail keychain to arrive. 🙂
The pacing of the story starts off pretty slow, but I never saw that as a bad thing. However, the pace very quickly speeds up towards the end, and it felt almost as if the game was trying to shove as much into the last chapter it could. The multiple endings were based on one decision towards the end, and it felt quite forced. Maybe it was just me, but I felt very overwhelmed, and I believe it might have flowed a bit better if it was drawn out just a few thousand words more. Another thing I noticed was the varying quality of the voice acting. Some voices felt much more fitting and experienced, while others felt almost mediocre. However, all the voices were fine, in my opinion, and didn't take away from my playing experience at all.
Now, my major issue with the story was the main antagonist. I can't reveal who it is at risk of spoiling the game, but you'll probably be able to guess. The villain was very one-dimensional, and while the reasoning for their power-hungry and violent character is explained through their "moonsickness" and desire for immortality, the game never really gave them any redeeming qualities or humanity at all. It's possible this was to parallel old fairy tales, but I'm just the type to enjoy complex antagonists. 
Thanks for tuning in, and I hope you check out my next blog, whatever that may be. I hope you had a good read and that I encouraged you to purchase this wonderful piece of art for yourself!