Nikki Giovanni needs no introduction from me I am sure. To say she is only a poet will be doing her an injustice. To quote a recent article from New York Times, "Giovanni emerged as a writer in the late 1960s during the Black Arts Movement, alongside her fellow poets Amiri Baraka and Sonia Sanchez. In one of Giovanni's early poems, "Reflections on April 4, 1968," marking the day Martin Luther King Jr. was assassinated, she wrote: "What can I, a poor Black woman, do to destroy america? This / is a question, with appropriate variations, being asked in every / Black heart." Nikki Giovanni, Finding the Song in the Darkest Days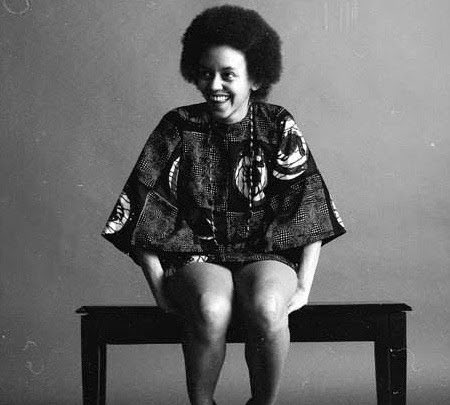 I recently read her poetry book, Love Poems and I can honestly say I LOVED IT. From the very first poem, "What It is" I was captured through her words and technique. Every stanza and line break was placed purposefully. My favorite poem will have to be "Balances".
In life
one is always
balancing
like we juggle our mothers
against our fathers
or one teacher
against another
(only to balance our grade average)
3 grains of salt
to one ounce truth
our sweet black essence
or the funky honkies down the street
and lately i've begun wondering
if you're trying to tell me something
we used to talk all night
and do things alone together
and i've begun
(as a reaction to a feeling)
to balance
the pleasure of loneliness
against the pain
of loving you
After reading this poem I was filled with so much understanding about myself and the way I love. The ending lines, "and i've begun /(as a reaction to a feeling")/ to balance/ the pleasure of loneliness/ against the pain/ of loving you." Hit me so hard because I am learning the lesson of self- worth and temporary affection. I know my worth and I am very selfish with who I dedicate my energy towards. On the other hand, I am a Leo and I shamefully love romantic attention lol. Those ending lines made feel like I will get through this phase in my life and I will love again. The power Nikki Giovanni holds in her words!
In Love Poems, Giovanni explores the connection between all types of love not just romantically. My favorite platonic love poem is "A Poem of Friendship"
We are not lovers
because of the love
we make
but the love
we have

We are not friends
because of the laughs
we spend
but the tears
we save
I don't want to be near you
for the thoughts we share
but the words we never have
to speak

I will never miss you
because of what we do
but what we are
together
Nikki Giovanni writes how she speaks: softly yet powerful. I deeply enjoyed the experience reading Love Poems. It was the delight at the ending of my day. It truly made me look forward to new loves in my life, platonically and romantically. As a new generation writer, I am influenced by Nikki Giovanni's writing style. I could only wish I can reach a bit of the impact she has on society.