Welcome to part two of my Depeche Mode series! If you missed part one, search for my previous blog post entitled "Help, I Have Fallen for Depeche Mode and Can't Get Up."
In this blog post, I will be discussing the documentary Our Hobby is Depeche Mode (2006), directed by Nicholas Abrahams and Jeremy Deller and produced by Jacqui Edenbrow. The documentary's prime focus is the fanbase of the prolific band Depeche Mode. Enjoy!
---
Our Hobby is Depeche Mode
In 2020, in the process of searching for Cure music videos, I stumbled across an hour-long video entitled Our Hobby is Depeche Mode. Captivated by the first few seconds, I skipped through the video's contents for perhaps thirty minutes. At the time, I had barely listened to a complete Depeche Mode album, and I barely knew the band's history. But I was fascinated. The band's fans were so passionate—and to an extreme you do not often encounter. To give one example, the documentary captures, at one point, a massive crowd of Depeche Mode fans dressed in similar fashion: black leather jackets, cropped hair, and smart blazers. A young guy clutches what appears to be a cassette or CD player blasting "The Sweetest Perfection"—a song from Depeche Mode's album Violator. Depeche Mode had brought these people together and had deeply influenced their overall appearance and attitude; I had never witnessed anything quite like it before. 
Long after my first encounter with it, this documentary stayed on my mind, and when I fell into a random Depeche Mode phase in February, I found my way back. 
Watching Our Hobby is Depeche Mode in its entirety has definitely changed my perspective of the band. Its fans are nicknamed Devotees for a reason. Depeche Mode is more than a British group haphazardly pressing synth keys. Worldwide, they represent freedom, sincerity, and the emotional grit of real life. The people they attract have endured harsh Russian winters, cruel governments, bruises and bloodied lips, and alienation. Depeche Mode is more than a band; it is a community that finds their thoughts and emotions expressed through Martin Gore's lyrics, Dave Gahan's voice, and Alan Wilder's musical composition. 
And Depeche Mode is a lifestyle, a uniting factor for strangers across continents, and…a hobby!
The first sixty seconds immediately arrest attention. A camcorder—showing the year 1992 in the left-hand corner—shakily enters a room covered in Depeche Mode posters. Fans with black nails, crisp shirts, and leather jackets are shown casually. The song "In Your Room" from Depeche's 1993 album Songs of Faith and Devotion plays. 
After this introduction, various fans across the world share how they imagine Basildon, England—Depeche Mode's hometown. Some speak of parties and a friendly atmosphere, but a Basildon resident and fan of Depeche since the band's origins says otherwise: "If Dave was to walk or Martin was to walk through the town now, you know, a lot of people wouldn't even recognize them…which might shock a lot of people, but into, uh, this very day, they're not within their own town seeing these huge stars. There's no, you know, statues of Dave Gahan or Martin Gore…you would never know Depeche Mode come from Basildon. To me it's ridiculous, you know—if anyone speaks about Depeche Mode they speak about Basildon. And it has, in a way, put Basildon on the map." This same fan, named Peter, also mentions the dangers of wearing eyeliner in the eighties; guys would literally be beaten up for it in Basildon. After seeing this average-looking brick town, it is undeniable that Depeche Mode has come a long way. 
In Russia, Victory Day is a holiday celebrating the surrender of Nazi Germany during World War II. And this just so happens to fall on May 9, the date of Dave Gahan's birth. Dave is more than a mere singer—he is the face of Depeche Mode, the attitude. Therefore, fans in Russia commemorate the band's existence on May 9, hosting parades alongside the marching men in uniform for Victory Day. When I first encountered this section of the documentary, I was taken aback. Countless Russians paraded down the street dressed in Depeche Mode T-shirts and holding black and red banners, their leading man dressed as a king in reference to the "Enjoy the Silence" music video.What possesses a group of people to do such a thing, especially during a national holiday? But watching all of these fans singing songs from Violator, united in their passion for music, filled me with envy. I can count on one hand the Depeche Mode fans I have ever met. And as these people in an entirely different hemisphere danced their hearts out to "Personal Jesus" and sang excitedly at a large projection of a DM concert, I realized that I am not obsessed with music at all. In spirit, I am only another member of that Russian parade. 
The documentary then travels west to Pasadena, California—the site of Depeche Mode's infamous concert in the Rose Bowl. The concert was recorded and released as a live album titled 101, which I own a record copy of! Anyway, this legendary performance by Depeche Mode influenced the lives of many, including two teenagers in Pasadena that the documentary features. After a guy named Orlando plays "Pimpf" on a keyboard, surrounded by Depeche Mode posters, he and a girl named Elena stand beneath the massive Rose Bowl logo, wearing Depeche Mode T-shirts and jeans. Although their obsessions with Depeche are obvious, Orlando appears a bit more fond of the band. In his room, he has a homemade collage of the band next to a rose and incense. And as "Strangelove" blares from a car radio outside of the Rose Bowl, Orlando copies Dave's dancing while pretending to sing along. He speaks on how the 101 movie —which occurred in and was filmed in his hometown, Pasadena—started it all, turning Depeche Mode into an obsession. He tells the camera, "To me, personally, it helped me through the worst times…you know, of my life…and when I'm sad or depressed, I listen to their music, and through Martin Gore's lyrics, I'm able to express, you know, the way I'm feeling. He's able to speak for me, you know?"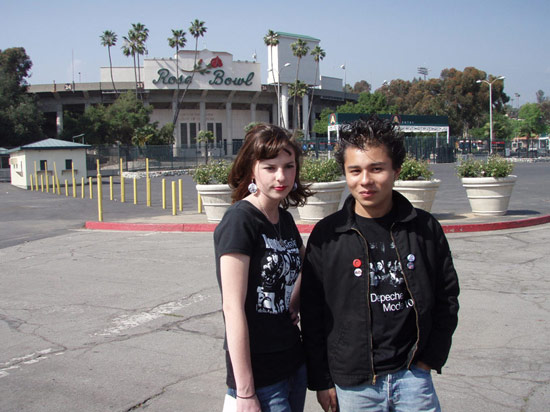 I found this to be such a powerful personal statement. Martin Gore's lyrics are deeply sympathetic and though relatively vague, hold nothing back. I understand Orlando because listening to Depeche Mode sometimes is like being able to put your thoughts, feelings, and concerns into words and sound, and that is so refreshing. Also, this is important for later, but DM fans Elena and Orlando wave their arms in the California air to "Never Let Me Down Again" and explain that it is a tradition Dave began at the 101 concert in 1988. 
"It was the whole wide world coming to your little socialist country," muses a middle-aged Depeche Mode fan living in Berlin, Germany. Along with a few other DM fans of similar age, he reminisces upon the time Depeche Mode performed in East Berlin. The concert occurred in 1988 and was a near replica of the performance in Pasadena. Martin Gore, at the time, lived in West Berlin, and this concert was partially possible because of him; it was the band's way of saying that despite the divide, East Berlin was still cared about and a part of the world. Because Depeche Mode fans in East Berlin were unable to buy any merchandise and own physical copies of the music, fine-point pens were used to write on buttons—homemade Depeche Mode merch fans wore to the unforgettable East Berlin concert. People unable to get tickets clustered outside the concert in hopes of catching a glimpse of the band. Countless security guards lost their jobs, throwing aside all responsibility to enjoy the concert. As one DM fan puts it, the posters had came from the walls—their heroes were there in the flesh, merely feet away. 
A few other Depeche Mode fans share the band's interesting influence on their lives. A teenage girl in St. Petersburg, Russia, crafts portraits of Dave Gahan out of beads, and she has a notebook filled with four years worth of illustrations depicting a fake life she and her friends have with the band. Meanwhile, a guy in New York boasts a Depeche Mode plate on his car, a Depeche Mode necklace that never leaves his neck, and approximately five hundred Depeche Mode T-shirts. But after witnessing a large mass of Depeche Mode fans conversing in the streets of Moscow, Russia, I realized the true impression Depeche Mode had made on its fans. One fan, with a large back tattoo of Dave Gahan, made a statement I found particularly interesting: "A lot of people listened to Depeche Mode then. It wasn't five thousand or ten thousand or a hundred thousand people listening to Depeche Mode…the entire country listened to them."
Another fan explains how the Russian DM fans began meeting in the streets of Moscow, saying that it all began during the Perestroika years when there was hardly anywhere to go, any places to meet people. At least a hundred filled the streets of Moscow with bleached and curly hair like Martin Gore, short and close-cropped hair like Dave Gahan, and leather jackets galore.
Why do so many Russians adore this band from Basildon, England? In a pirate Russian television broadcast made in 1992, one DM fan says, "Can you tell me what other music is more emotional? What other music has the sound of forks, railway ties, and scissors? It's a complete original." The Depeche Mode fan with the Dave tattoo adds, "This new music coincided with the fall of the Soviet Union. So I see it as having been the music of freedom." And seeing all of these young people together laughing among each other and dancing and singing triumphantly to "Never Let Me Down Again", it is evident that DM is more than a band to their Russian fans. Perhaps Depeche Mode is the sound of freedom for many of them, and I find that both strange and beautiful.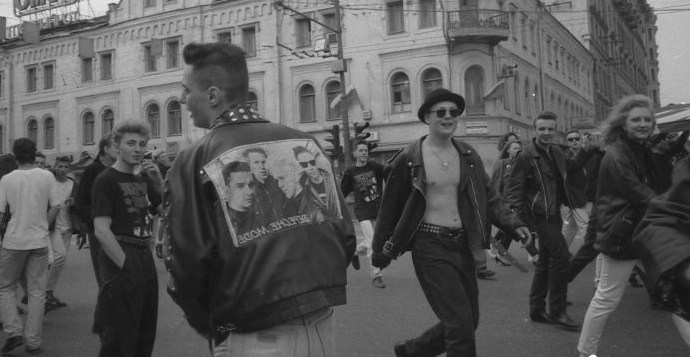 One woman, a Russian DM fan, gives her reasoning for Depeche's large success in Russia. She explains that Martin's lyrics are not without this tragic, despairing air that greatly appeals to Russians and that he writes of the transcendental nature of existence which appeals to the transcendental soul of the Russian people.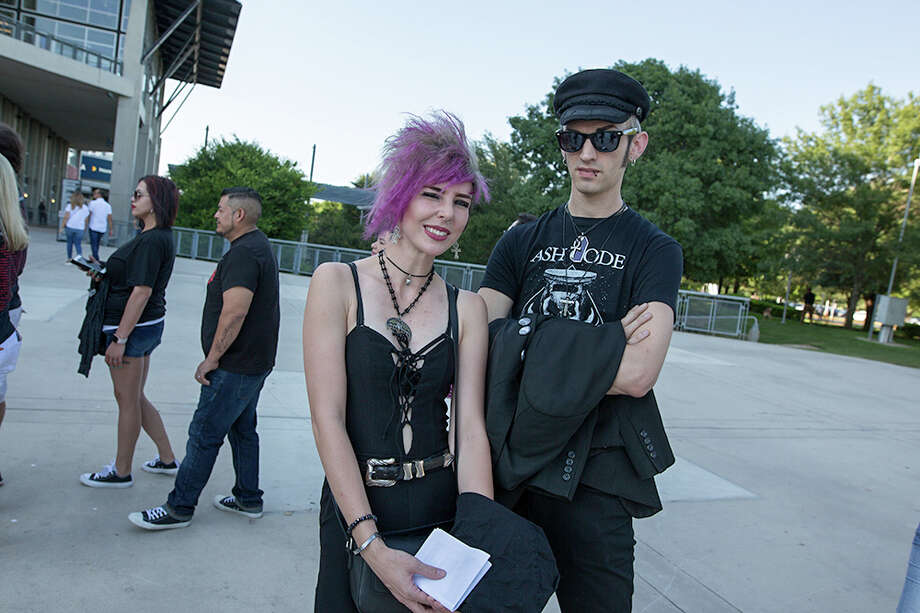 In California, as a high school band practice Depeche Mode songs in the background, Trent Reznor of Nine Inch Nails shares his connection to Depeche Mode: "The role that Depeche played with me was…it was music for somebody that felt like they didn't fit in. And it felt like an alternative to—before the word alternative became a marketing tool—it felt like something other than what the popular, accepted, happy people were listening to."
A woman in the U.S. shares a story of a disastrous Depeche Mode signing. Apparently, in 1990, nearly twenty thousand Depeche Mode fans camped out on the side of the street, hoping to get an autograph. Fans lay on blankets either sleeping or conversing with one another, wearing eyeliner and listening to DM favorites. But as more people gathered outside of a record store where Depeche Mode planned to give out autographs, concern rose. Riot police were sent to clear up the crowd, and chaos ensued—some people ending the night hoisted into ambulances. The woman sharing the story was fortieth in line and never got an autograph. She leaves one final message: "The music was so meaningful to us…to us all."
In Germany, there is a family who dresses up in iconic Depeche Mode moments such as the king's cape and crown from "Enjoy the Silence" and the weird bird-like mask from "Walking in My Shoes". A man wearing the cape and crown says, "I lived in East Germany. The wall came down on the ninth of November 1989. Two days later I simply had to cross to the West to buy an original cassette of Music for the Masses." A woman who I assume is his wife says, "It sounds crazy, but it's our hobby. Depeche Mode isn't just our passion, it's our hobby. Other people go to the gym or do sport…our hobby is Depeche Mode."
In Iran, 2006, one Depeche Mode fan shares copied cassettes he bought off of the black market, as purchasing foreign music—like music from the West—is illegal. He mentions that his love of Depeche came from his uncle, who now resides in Canada. The uncle, named Andy, shares his experiences of being a Depeche Mode in twentieth century Iran. Young teenagers that associated with bands such as Depeche Mode were harassed and beaten by police officers. The government spent a great deal of energy pushing an "Islamic outlook" onto the people in Iran, opposing outside cultural influences. Depeche Mode was a particularly scandalous band due to member Martin Gore's flamboyant fashion. The DM fan, Andy, states how much people take for granted the freedom they have. DM concerts simply are not possible in Iran, as Andy could hardly find posters. Andy states that even then, in 2006, Iranians could be beaten, thrown in jail, or have their house raided because of the music they listen to. He says, "What you look like and…what you listen to is basically setting up your culture and who you are. And when you don't fit in a society because you don't listen to the music that they do, you don't look like what they look like, so…eventually you feel depressed…you feel separated from them. I'm nothing without listening to music; I'm nothing without playing music and performing it. And that was one of the main reasons that I left Iran, and I worked on it for years and years, and I'm so happy that it happened."
However, the fan with the most memorable story to me speaks at the documentary's end. In the London area for quite some time, he was homeless and lived beneath a bridge—owning only a small Sony stereo and a copy of 101 on tape. He recounts that his fear of running out of batteries surpassed one of running out of food, as this tape was his friend, his relief. After getting a hold of a bootleg copy of Songs of Faith and Devotion, this fan, Mark, found a way to attend Depeche Mode's famous Crystal Palace concert in London. I found his words on this concert quite impactful: "You look around the crowd, you can't tell who's homeless, who's rich, whose first gig, who's been to many—you just…almost moving as one. That was a huge turning point. Never…up to that point in my history had I felt such a part of something, such an awesome sense of togetherness, of hope, of energy. It made me realize that living—surviving—isn't enough…for life to be worth anything, you gotta live. And it takes a moment when you actually feel alive for you to realize that. It was only about a year and a half after that that I actually managed to get myself a room, start reeducating myself, but that's what put the fire in my belly. I wanted more moments like that. Luckily I've been to every London gig since."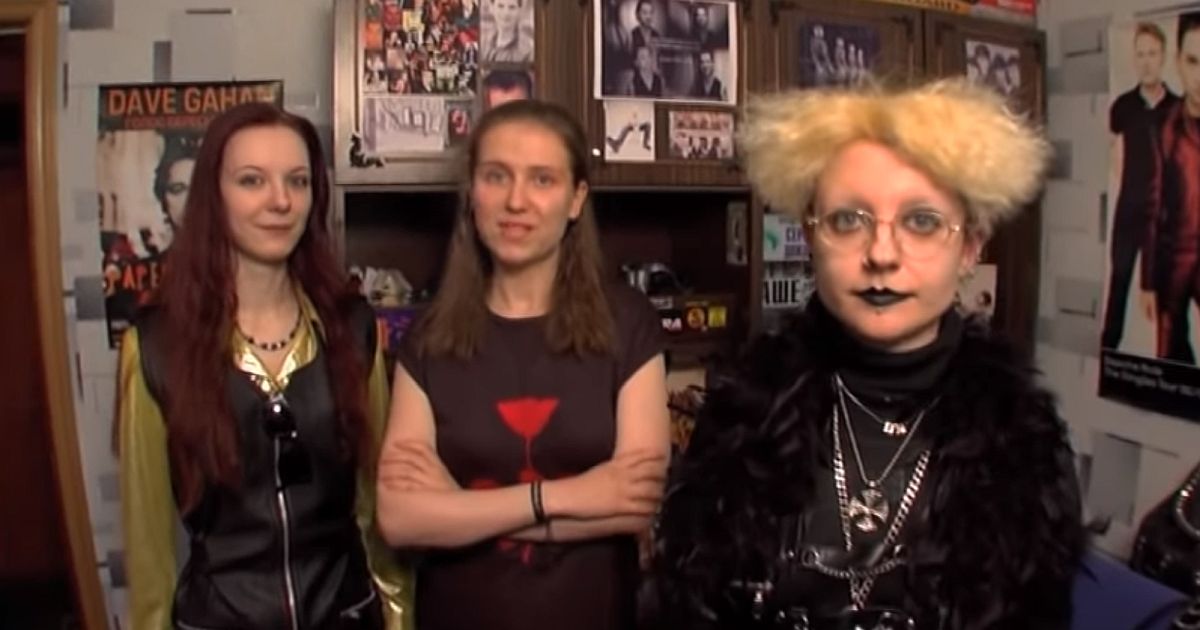 The documentary ends with a Depeche Mode tradition: fans from all corners of the world wave their arms to "Never Let Me Down Again". There are large families—all wearing Depeche Mode shirts, Russians in black lipstick and leather, the German family who describes Depeche Mode as being their hobby, the teenagers from Pasadena, the Basildon guy who has been a fan since the band's origins, and Mark. Although each live in different parts of the world in different climates, neighborhoods, and families, they are all one—they are all connected by their love of a band from a small town in England. 
To conclude this blog post, I am thankful for stumbling upon this one-of-a-kind, hidden documentary. It filled me with this immediate sense of wonder, this yearning to be among a crowd of people in similar dress listening to Depeche Mode. It is a bit lonely to love bands that were popular in the late twentieth century, but the music is worth it. Depeche Mode is a part of my three favorite bands of all time, and their music has given me so much. I absolutely adore their overall sound and aesthetic, and owning 101 on vinyl makes my heart happy. Although I am not one of those Devotees surrounded by Depeche Mode posters, I do consider my fan. And it would be nice to have a poster!
Thanks for reading, and stay tuned for part three! I dissected the band's fanbase, but what about the band itself? Who exactly is Depeche Mode? You will have to wait and find out…