hello! i'm back this week with another list of my favorite things, this time featuring a genre of media i have recently fallen in love with- adult animation! growing up with older cousins, it seemed as though family guy was constantly playing in the background of my childhood, only to be occasionally interrupted by the odd south park episode. as a kid, i always dismissed the genre, thinking it was mostly dumb and, well… kinda creepy. as far as i knew, cartoons were for kids, and the idea of making them with mature content seemed pointless and weird, and i always just kind of made fun of the shows. however, through my interest in pop culture history, i learned that the first cartoons were actually made with an older audience in mind. characters such as mickey mouse and betty boop were originally written to entertain adults in a new way with the development of animation as a new art form. as time moved on, the media was passed on to children, but there were a few creators who decided to stay true to animation's origins and create cartoons for adults, and i have learned over time to appreciate the genre greatly. these are my top three favorites (as always) in no particular order!
bojack horseman
i had always heard about this show and its strange, depressing content. i never really had much of a desire to watch it, until one day, i randomly decided to press play when i was particularly bored. it was one of the best decisions i ever made. this show really surprised me with its brilliance. i genuinely am in awe of this shows ability to make the viewer feel such a broad span of emotions under the guise of silly animals and bright color schemes. bojack is so interesting because of its raw, piercingly accurate view on mental illness, addiction, and family dysfunction. while it deals with extremely dark topics super well, it's also one of the funniest shows i have ever seen. the humor is dark and unique- the kind of jokes that you can't stop laughing about, even when you think of it days later. i never thought that a cartoon about a horse would hold such a special place in my heart, but there's something so incredibly special about this series. i feel so deeply for these characters, who are so well-written that i could honestly do an entire post about them alone.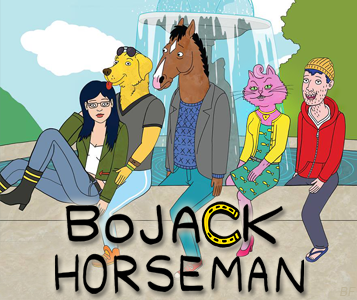 daria
this show is the absolute epitome of teen angst and cynicism- which is what made me hesitant to watch it the first time. i feel like in the last several decades, there has just been so many stories about a too-smart-for-her-own-good teenage girl who learns to appreciate the world around her, and while i do appreciate many of those stories, i honestly assumed that this show would just be a cheap jab at young people's pessimism. however, i did decide to watch it mainly because of its mtv origins and its 90s style, and i couldn't be happier that i did. this show has sharp, quick humor that really appealed to me, making it not only one of my favorite cartoons but one of my favorite comedy series of all time. i relate so much to the characters on this show, and i always saw pieces of myself in them and their experiences. if you've never seen this show and you appreciate 90s and early 00s culture, or just want to watch a genuinely brilliant piece of animated media, i strongly encourage you to check this show out! (p.s. the theme song of this show- 10/10!!)
the simpsons
honestly, there isn't much to be said about this show that it's legacy can't already speak for. it's been on the air for decades and has imbedded itself in american pop culture in a hugely influential way. the characters are household names, and the animation style is often replicated and is widely recognized. this is another one that i grew up watching, and turning it on always brings me comfort and nostalgia. the show never fails to make me laugh with its ridiculous gags and goofy but lovable and relatable characters. this is a show that really means a lot to me, and i'm glad i was able to geek for a bit.